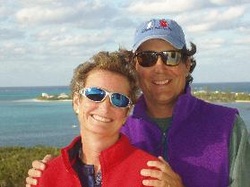 Hi we're Keith Jones and Martin Coffee, we are glad you are visiting our site and interested in our new marina.
We've had property in Mathews County for over 20 years and when we found this spot in 2000 with its beautiful views and wonderful location we couldn't resist. In 2003 we sailed our boat to her new home and anchored off the point. Since then we have been hard at work transforming a badly neglected marina into a modern home for boats.
We chose our home because of the peace and serenity of our location. A very secure harbor in the back of our property is home to the new marina. While we don't offer noisy boatyards, restaurants, and bars - we can really provide the boatowner with a peaceful place to get away when they come to their boat. When it's time to slip the lines and venture out, you'll not find a seemingly endless trip to open water, it lies just outside the harbor.
Both of us grew up sailing and we have owned four sailboats before our current boat, Pearl, a 47 foot Bristol sloop. We fulfilled a life dream in the winter of 2004-5 and cruised Pearl down to the Bahamas. We plan on enjoying cruising again in the coming years during the marina's off season months.

Keith has a USCG 50T Near Coastal Master's license with numerous offshore passages and races. He is often away on boat deliveries and instructional passages. He also is an ASA certified sailing instructor for Basic Sailing to Advanced Coastal and is working with SailTime in Norfolk.
We hope that you come and visit us in our slice of paradise!
---